How to protect yourself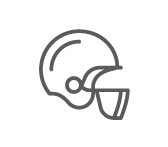 Learn how to stay safe online when you bank, browse and shop. Prevent card and identity theft and learn how to recognize online fraud.
COVID-19 Information
Keep your eyes open for potential scams related to the Coronavirus pandemic during these times.
Below are some examples of the types of things that someone could receive and should be cautious of:
Emails that appear to be from organizations such as the Centers for Disease Control and Prevention (CDC), or the World Health Organization (WHO). In many situations, fraudsters have crafted emails that appear to come from these sources, but they actually contain malicious phishing links or dangerous attachments. Only open emails from reliable sources.
Emails that ask for charitable donations for studies, doctors, or victims that have been affected by the COVID-19 coronavirus. Fraudsters often create fake charity emails during times when the public are facing crisis situations like natural disasters or health scares, such as the COVID-19.
Emails that claim to have a "new" or "updated" list of cases of coronavirus in your area. These emails could contain dangerous links and information designed to scare you into clicking on the link.
What can you do?
Remain cautious, and always remember the following to protect yourself from scams like this:
Never click on links or download attachments from an email that you weren't expecting.
If you receive a suspicious email that appears to come from an official organization such as the WHO or CDC, report the email to the official organization through their website.
If you want to make a charitable donation, go to the charity's official website of your choice to submit your payment. Type the charity's web address in your browser instead of clicking on any links in emails, or other messages.

As a reminder, we advise all of our members to be alert of suspicious activity online. Please always remember to use safe internet and email practices. Your security remains our top priority during these times and we encourage all members to review our simple fraud precautions to ensure you stay protected.
Prevention 101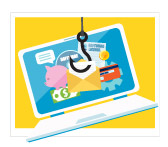 Keep pace with new ways to stay safe online. See how you measure up to online fraudsters by taking this 3 min quiz.
8 Tips to Avoid Debit and Credit Card Fraud
Memorize your debit and credit card PINs, don't write them down
Keep your wallet and cards close at all times (especially in places like restaurants, pubs, etc.)
Don't give your PIN out to anyone (even a friend or family member)
Don't leave valuables in your vehicle and check to make sure you lock doors when you leave
Don't let anyone walk away with your debit/credit card in a restaurant or store
Always shield the keypad from the view of others when you enter your PIN
Monitor your statements for unauthorized transactions
Set up account alerts sent via email or text
5 Ways to Prevent Ransomware
Back up your files regularly at remote location - cyber-crooks have far less leverage if they're trying to deny access to something you have backed up on a hard drive in your sock drawer.
Don't click or open anything you weren't expecting to get without being absolutely sure of its safety - that includes being skeptical of links or attachments from friends or family.
Deactivate autoplay - autoplay allows applications to open digital media instantly and ransomware can exploit this and trick computers into running a program.
Establish layers of defense - the best anti-ransomware defense is simultaneous use of the big three: antivirus applications, firewalls that block unauthorized access and web filtering software that can guide users away from a constantly changing list of dangerous sites.
Stay up to date - for absolutely free protection, accept and install all updates to your computer's operating systems, browsers and plug-ins as soon as they arrive (thousands of organizations failed to do so and left themselves vulnerable in the current global cyberattack).
Online Banking
Passwords
Online credentials can be numerous as they are needed for email accounts, social networking sites, online newspapers and shopping websites. That's a lot of usernames and passwords – and it can be tempting to use the same combination for everything. But this makes it far too easy for hackers because once they have one password, they can access all your sites. Login credentials are the keys to your accounts so don't leave those keys around for anyone to find. For online banking, the key is your password. We recommend you:


Choose a password that is easy for you to remember but difficult for others to guess. Avoid using current phone numbers, dates of birth, or social insurance numbers.
Be smart and don't save a list of your credentials on your PC. If you have to write them down, keep these details locked away somewhere only you can access or consider using password-management software, which secures and encrypts usernames and passwords and allows you to use a single master password.
Do not share your password with anyone, especially online. Employees of our financial institution will never call, email, write or ask you to provide your online banking credentials.
Don't authorize browsers to memorize your credentials. Saving these on your computer allows anyone using your PC to gain access to your login-protected sites.
Consider changing your password every 90 days for optimum security.
Monitoring Your Accounts
Frequently reviewing your paper and/or electronic account statements and/or registering for our transaction alert system ensures that you spot any incorrect or fraudulent transactions as soon as they occur. If your card has been skimmed (when the card's magnetic stripe and PIN are fraudulently copied by embedded devices at ATMs or point-of-sale devices) or unauthorized transactions have been made, you will want to catch this as soon as possible. Every time you receive an account statement, verify you made all the transactions or let us notify you whenever there has been movement in your accounts (with the transaction alert system).
Personal Details
When you move, it is important to notify us of your change of address. If your mailing information isn't up-to-date, statements or letters that contain personal information will continue to be sent to your former address.
Logging In and Out
When you are finished with your banking session, always log out by clicking the "Log Out" button, as opposed to simply closing the browser window. To help protect your information, your online banking session will end automatically if there has been no activity for 20 minutes or if your visit lasts longer than 60 minutes. If your session has timed out, no further transactions can be made until you log in again. This time-out feature helps protect your accounts from unauthorized access if your PC is left unattended or if you have forgotten to log out.
Direct Alerts
Direct Banking Alerts notify you via text message and/or email regarding specific activities related to your account. These alerts are an effective way to monitor accounts for unauthorized activities, allowing you to notify us should you feel your account has been compromised.
Alerts include:
New Payee Added



This alert notifies you when a new bill payment vendor account is added to your online banking account.




Password Change



This alert notifies you when your online password has been changed.




Log-in



This alert helps you keep track of authorized log-ins to your account by receiving a notification every time someone logs-in.




Interac e-transfer recipient



You will be notified every time a new Interac e-transfer (electronic money transfer) recipient is added to your banking activity.




Contact change alert



This alert notifies you when an email or phone contact is disabled or deleted in your registered profile.




Alert change



This alert notifies you when an active alert is modified or deleted from within your direct banking alert set-up.
Ready to sign up? Simply follow these four steps:
When you sign onto online banking, click
Messages and Alerts
in the menu at the left
Click
Manage Alerts
Under Security Alerts,
select the alert you want from the choices offered
and then click
Get Started
Follow the prompts provided to activate the security alert on your account
Browsing
Clearing cookies and cache
When you spend time on the Internet, your browser stores information, such as the websites you visit, the images and files you view, and your personal information, including passwords and login details. This data is held on your computer's hard drive and is known as 'cache.' Even though you may have logged out and closed your browser, this information may remain accessible. You can protect your data by clearing your browsing history regularly. This can be done in a few easy steps:
Internet Explorer Users
Click on the 'Tools' tab (or use the 'Ctrl-Shift-Delete' shortcut)
Select 'Delete Browsing History'
Choose the options you wish to erase and click 'Delete'
Firefox Users
Click on the 'History' tab (or use the 'Ctrl-Shift-Delete' shortcut)
Select 'Show All History' and/or
Choose the time frame you wish to erase and click 'Delete'
Safari Users
Click on the 'History' tab
Select 'Show all History'
2Choose the period you wish to erase and click 'Clear History'
Chrome Users
Click on the 'wrench' icon on the right-hand side of the address bar (or use the 'Ctrl-Shift-Delete' shortcut)
Select 'History'
Hover over the items you want to delete and click the box that appears
After selecting the items, click 'Remove Selected Items'
To delete all browsing history in Chrome:
Select 'All Browsing History'
Choose the time frame you wish to erase
Click 'Clear Browsing Data'
Private Browsing
Some web browsers have a feature that allows you to browse the Internet without the browser storing information, such as the sites you visit, the images you see and videos you watch. This feature is sometimes used by people who share the same computer. Private browsing is a temporary option and must be selected in order for it to be activated. Private browsing, however, does not give you immunity to spyware or make you anonymous. It is still possible for your Internet service provider, employer or the websites you visit to track your online activity.
General Security
Anti-Virus Software
Install anti-virus software on your computer to protect your information, money and privacy. Such software detects viruses and cleans your computer so that harmful viruses do not spread. Set up your anti-virus to run frequent scans and update the software as soon as it is required. Ensure you have real-time scanning of every email and every file you download.
Operating Systems
Your computer's operating system needs to be up-to-date in order to defend itself from viruses and malicious software (malware). If one part of your operating system develops a virus, it leaves holes in your PC's security defences and compromises the safety of the information contained in your computer.

Keeping your software up-to-date is one of the most important ways of staying safe online because it is much harder for viruses to infect an updated operating system and software. Hackers are targeting operating systems with new viruses all the time and software companies combat these efforts with security patches. You should always download the latest security patch as soon as it becomes available.

Your operating system lets you know when updates are available by notifying you there are new security features to download. You can also upgrade your operating system to the latest version available from the manufacturer; however, you should ensure your computer has sufficient hardware capacity to support an upgrade.

Remember to back up your data. To fully eliminate a virus that has infected your machine, the re-installation of your operating system may be required. Protect yourself against the permanent loss of important data by frequently backing up your files on an external hard drive so you'll have the data should you ever have a problem with your operating system.
Browsers
Web browsers are the gateways to the Internet. Similar to having an up-to-date operating system, upgraded browsers provide more features, stability and security. Whether you use Internet Explorer, Firefox, Safari, Chrome or something else, stay safe online by using the latest version available.

The latest versions of web browsers have security features that can identify and block harmful and fake websites and pop-ups, and warn you if a site is flagged as unsafe. Some browsers also have a 'Private Browsing' feature, which conceals your browsing history from others.

We suggest you update your browser to the latest version.
Firewalls
A firewall protects your computer and home network from harmful websites and hackers. It sits between your computer and the Internet, scanning information that is being transmitted. It allows for safe browsing, while blocking unauthorized intrusions. Even though you may think you have no information of value on your PC, firewalls also stop your computer from being used by hackers to send malicious software to other computers.

Most computers now come with a firewall as part of the standard operating system. However, you can get the maximum protection for your computer by installing additional firewalls and ensuring they are kept up-to-date.
Protect Your Smartphone
Browsing the web has never been easier – it's all at your fingertips. Smartphones let you surf, shop or bank wherever you are. Make sure your information stays secure while you're on the move by following these smartphone-safe browsing tips:

Activate your phone's password feature, which locks the screen and prevents anyone but you from accessing your phone. Set up the password feature on your phone with a code that only you know.

Don't connect to unknown networks through Wi-Fi hotspots to make financial transactions.

Beware of smishing – that's phishing on phones through text messages. Never download media or images, or click on text-message links that come from unrecognizable people or phone numbers. Never provide personal details or any account details using any form of electronic messaging because this is not a secure form of communication. If you are unsure, please contact us.

Download apps exclusively from the official source for your smartphone's platform, such as the Android, Apple or Google Play stores.

Install anti-virus software for your smartphone when available and update it frequently.

Install location finding applications, which work with your phone's built-in GPS. These applications allow you to locate and/or remotely erase (or "wipe") data in your phone if it is lost or stolen.

Update your smartphone's operating system as soon as newer versions are available.