Samsung Pay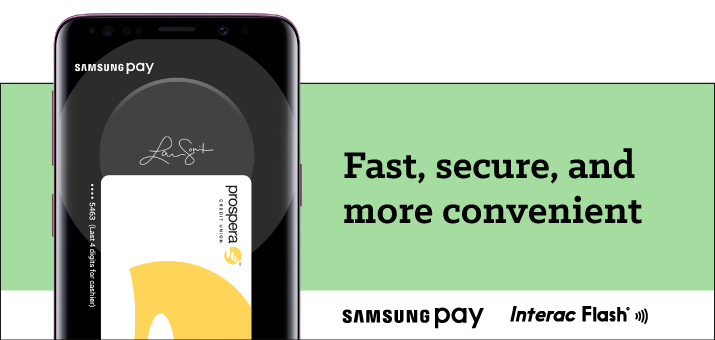 Never be without your card with Samsung Pay.
Overview
Easily add your Prospera debit card to Samsung Pay
Follow these steps through the Wallet app on your phone:
Open the Wallet app and register your Samsung Pay PIN
Tap

+ Add card

, or select

Cards

from the menu in the top-left corner
Follow the onscreen instructions to add your Prospera Debit Card
Select your preferred methods of:

verifying your card,
and your desired security or authentication options
Paying with Samsung Pay
Follow these steps on your phone:
Open the Samsung Pay app:

swipe up from the home button on the lock screen,
or, open the app from the app menu

Select your Prospera Debit Card and authorize your payment using your phone PIN, fingerprint, or iris scan
Hold your phone over the Interac® Flash-enabled payment terminal
Where to use Samsung Pay
Samsung Pay using your Prospera debit card works wherever Interac® Flash is accepted. Just look for the Interac® Flash logo or contactless symbol at the checkout. Some stores will also display the Samsung Pay logo.

*Note:

You cannot use Samsung Pay for International purchases.
FAQ
Which Prospera cards can I use with Samsung Pay?
Prospera Member Card debit cards are currently only available for Samsung Pay.
Can I add my Prospera Member Card to more than one Samsung device?
There is no maximum number of devices to which you can add your Prospera debit card for Samsung Pay. However, you are responsible for verifying the validity of the Prospera debit card on each device, and for any charges made with the card to your account.

There is a limit of 10 payment cards that can be added to Samsung Pay.
How do I make my Prospera Member Card the default card in Samsung Pay?
You do not have the ability to set a default card in Samsung Pay. The last card used or viewed would be the card defaulted for payment. You can swipe left and right to scroll through your payment cards and select the one you want to use for payment.
Is Samsung Pay free?
No. Samsung Pay is included as part of your Prospera account. Each Samsung Pay payment will count as an additional debit transaction, if you pay transaction fees for your account. Please any time to discuss the right account package for you.
Is there a maximum dollar amount for a purchase?
No, there is no maximum value for Samsung Pay transactions, since each purchase is verified within Samsung Pay using PIN, fingerprint or iris scan. Please if you experience a situation where a retailer has imposed a limit on Samsung Pay transactions.
Am I subject to a daily spending limit?
Yes. Prospera will continue to monitor your total spending across the payment services that access your account, including your Prospera Debit Card at retail locations via Samsung Pay. Samsung Pay purchases are included in your existing total limit.
Is my account number stored on my phone?
No, your account number is replaced with a secure digital number known as a token. The token represents your Prospera Member Card debit card and is used to make secure purchases in-store.
On which devices will Samsung Pay work?
Samsung Pay works on the following devices:
Galaxy A8; A5
Galaxy Note10; Note10+; Note9; Note8; Note5
Galaxy S6; S6 edge; S6 edge+
Galaxy S7; S7 edge
Galaxy S8; S8+
Galaxy S9; S9+
Galaxy S10e; S10; S10+
Do I have to use my fingerprint to use Samsung Pay?
No. Samsung Pay purchases can be authenticated using fingerprint, iris scan or PIN code on your device.
Do I need network access to make a purchase?
No. Your Samsung device (powered and unlocked) has everything you need to complete a purchase at a retailer, even without network access. As with card purchases, you may not complete a purchase if the POS terminal is off-line or unavailable. You will need network access to receive transaction notifications from Samsung.
How do I do a refund?
Refunds are initiated by the Merchant at the POS terminal following the same process as a purchase within Samsung Pay. The key difference is that you may be asked to provide to the cashier the last four digits of your Device Account Number instead of the last few digits of your card number. Successful refunds will be processed immediately to your account. It's recommended that you bring your physical card with you.
What if my device is lost or stolen?
If you believe your device or Samsung Pay card information has been lost, stolen, or compromised in any way, call us immediately at 1-888-440-4480.
Will removing my card from Samsung Pay deactivate my plastic card?
No. Removing your Prospera Debit Card from Samsung Pay will not affect your plastic card.
Can I use my Samsung Watch with Samsung Pay?
No, Interac® Debit on Samsung Pay is not yet supported on Samsung wearable devices.