Prosperity Tracker
On November 25, 2020, Prosperity Tracker will no longer be available within online banking and the mobile banking app.
This means that features such as external account linking, transaction categories, spending & trend analysis, and budgeting will no longer be available.
Highlights
Bigger Picture. Smarter Features. Better Living.
Understand your money like never before. The new Prosperity Tracker tool shows how you spend and save, so you make smarter decisions.


See your spending
It's easier to plan when you can see where your money goes. View your spending in user friendly charts. Personalize categories so they make sense to you.


Better budgeting
Setting up a personal budget in the Prosperity Tracker is easy. Alerts notify you when you're close to or over your budget—helping you stay on track.


Safe & secure
Your transactions are safe and secure within Prospera's online banking.


Go mobile
Make in-the-moment financial decisions by tracking your spending and budgets from your smartphone or tablet.

FAQ
Is my personal information safe?
Yes, your banking and personal information is secure and keeping your financial information safe is one of our top priorities. Our online and mobile services offer you the best security currently available in a financial services environment. For more information, please visit our online security guarantee and privacy policy.

How is the Prosperity Tracker different from Mint.com or other financial management tools?
Mint.com is not a financial institution. It is a third-party software provider that acts as an aggregator of customers' banking information. It does not allow users in Canada to perform any online banking activities, such as paying bills or transferring money. The Prosperity Tracker offers easy-to-use tools to help you see your full financial picture, all within the Prospera website that you know and trust.

Is there any cost for this service?
No. This is a free service to help you track your spending and feel more confident about the financial decisions you make every day.

What if I don't want to use the Prosperity Tracker?
You can minimize the view of the budget and spending features, which makes the format look like what you have used in the past. When you use the same device to log in to your online banking, your preference of hiding the interface will be remembered.

Will I be able to link my banking information from accounts in another country?
You can link your accounts from other participating financial institutions across Canada and the United States. You can also link your investment portfolios and credit cards.

Are the budgeting and spending tools available on mobile?
Yes. Our Mobile Web and Mobile App include the ability to view (not manage) spending, budgets and categories for accounts held with us and through other financial institutions.
What's New
We are happy to be introducing the Prosperity Tracker to our members.
Prosperity Tracker is a tool that is available in personal online banking and mobile banking sites, including the Prospera mobile banking app. Prosperity Tracker will offer you a seamless way to track your spending, set and monitor budgets and link your accounts held at other financial institutions across North America. It also empowers you to take control of your finances and improve your overall financial wellness.
You will notice some changes to your online and mobile banking experience with the Prosperity Tracker tool. Here are helpful screenshots that show you the new changes:
---
Welcome Screen before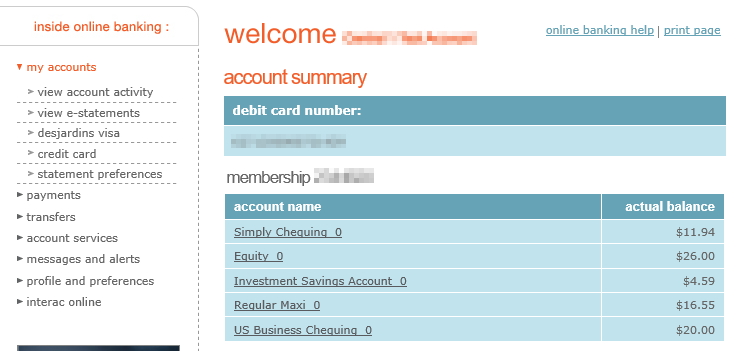 ---
Welcome Screen after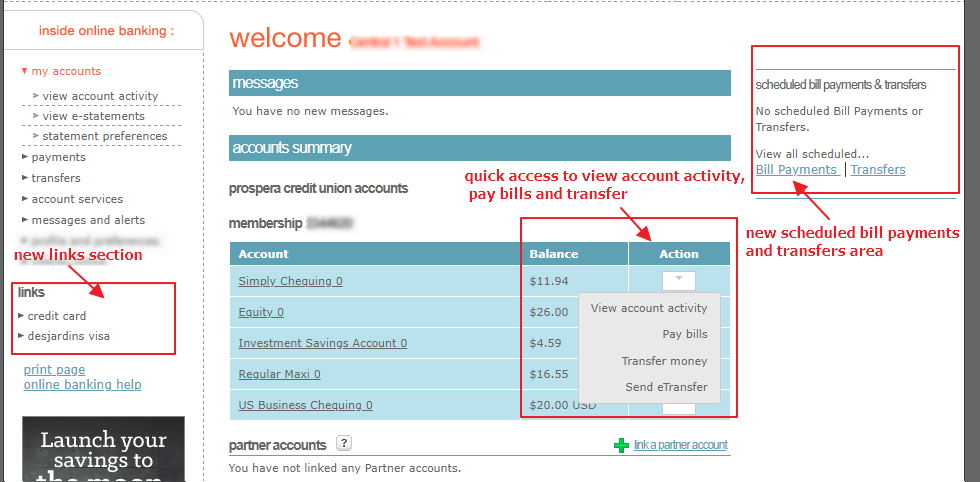 ---
Business Online Welcome Screen after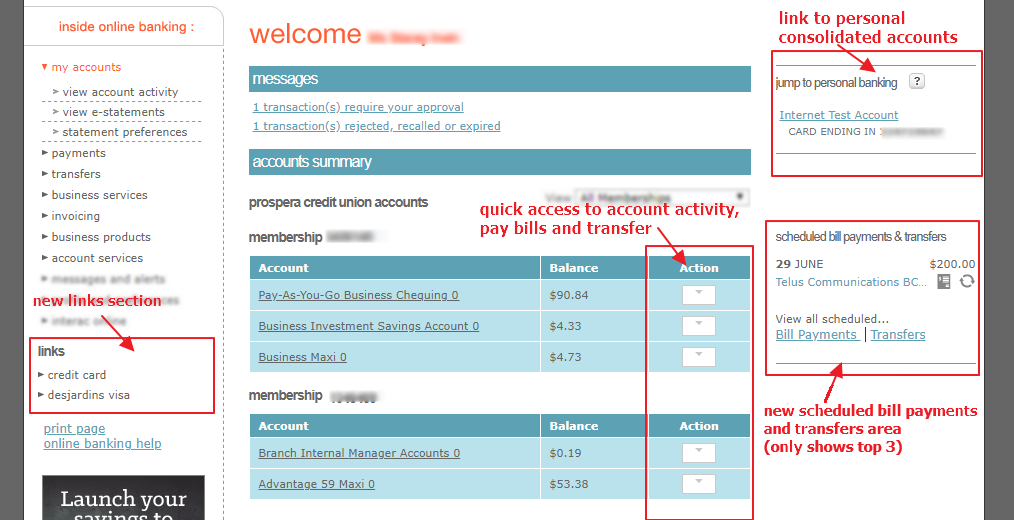 ---
Account Activity before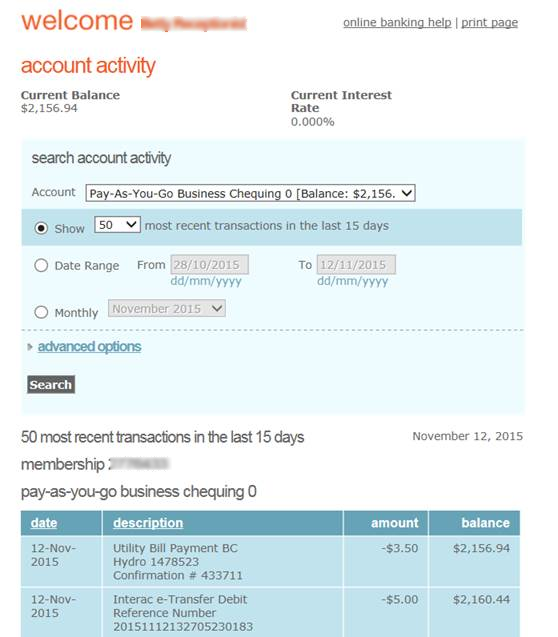 ---
Account Activity after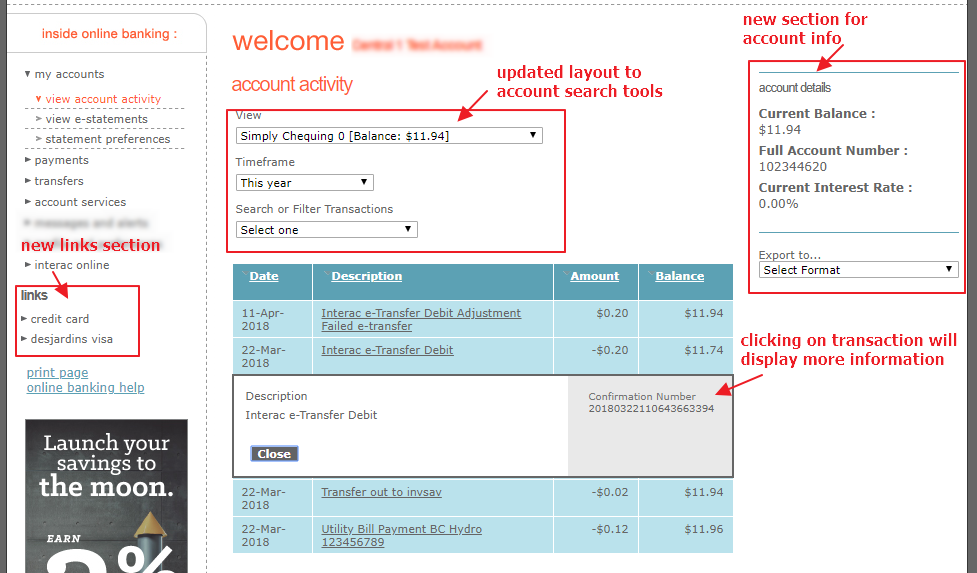 ---
Mobile Web with the Prosperity Tracker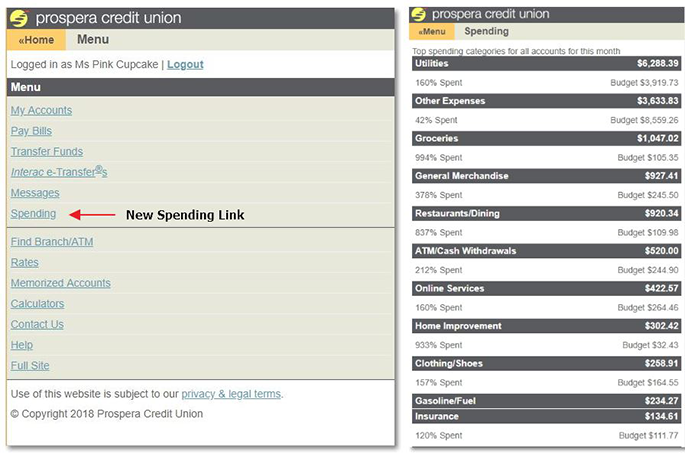 ---
Mobile Banking App with the Prosperity Tracker