Prospera Mobile Web Banking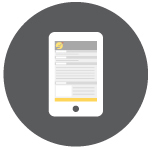 Mobile Web Banking at Prospera lets you bank securely and virtually anywhere… well, anywhere you have an internet connection.
Our online banking website has been enhanced for your smart phone where you can:
Check account balances
View transaction history
Pay registered bills
Transfer funds (immediate or scheduled)
Send and receive Interac® e-Transfers
Manage scheduled bills and transfers
Find Branch/ATM
Memorized Accounts
Contact Us
It's simple. Just make sure you are registered for online banking and visit www.prospera.ca/m using your smart phone. You can even add an icon to your home screen for easy access.
If you are not signed-up for online banking, make sure to visit your branch.
Still have questions? Check out our Prospera Mobile Web Banking FAQs